Aptitudes are Your Advantage in Career Planning
The best advantage for students and adults is to learn how to use their natural strengths, or aptitudes. Aptitude is the potential to learn a work skill quickly and easily.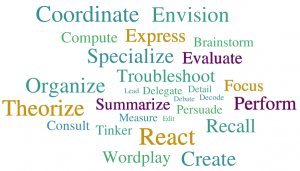 We are each unique. Different aptitude patterns fit different skills, tasks, and careers. This information is very helpful when evaluating career options and college majors.
Aptitudes are recognized as providing essential information for career planning. Unfortunately, they are not typically included in the standard career assessments. Why?

The different measurements in an aptitude battery take more time and work to complete than an opinion-based survey.
The expertise necessary to interpret an aptitude profile is more complex, requiring richer experience.
Career Vision uses 
The Ball Aptitude Battery® (BAB™)
developed by
The Ball Foundation.
As the service and consulting arm of the Foundation, Career Vision staff are experts in helping clients and families understand and make the most of their natural abilities. Our goal is for our clientele to be successful and happy.