The three main variables predicting career satisfaction are…
Aptitude + Interest + Personality = Career Success. 
— American School Counselor Association
A Unique and Powerful Approach to Career Planning
An important part of career planning is discovering who you are. Knowing your aptitudes, or natural strengths, gives you an advantage for years to come. Why?
Solid direction saves time, money and frustration.

Motivation and confidence increase when decisions are based on objective, stable information.

Career success and happiness come from understanding which careers fit you best.
A new way of talking about your natural strengths is helpful for internships, job search, and annual reviews.
Aptitudes are not tested in school or by the majority of career guidance services. They typically rely on interests, personality and values assessments. While those are also important indicators of career fit, aptitudes are the "missing piece" of traditional career planning. A fundamental piece.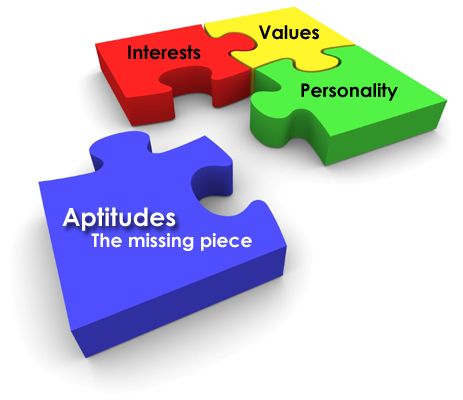 The reason for this is clear — if we choose work and settings that engage our natural talents, then success becomes more likely. And success is a big part of work happiness!
Aptitude-based career planning identifies careers that use your natural strengths. It also incorporates other traits such as interests, values, and personality. This provides a realistic and effective shortcut in focusing career exploration.
Self-knowledge is core to making good career choices. Understanding your aptitude patterns helps you to identify the types of skills you will enjoy and be most successful developing. That's where partnership with a skilled professional comes in. And your aptitude pattern is as relevant at 16 years as it is at 70!
Career management is now a basic skill. We are responsible for our goals. Successful careers are supported by career service programs and strategies that are based on knowing your strengths and what you enjoy doing.