Event Calendar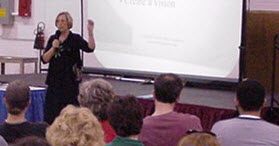 As a not-for-profit research and consulting service, Career Vision has a long history of offering career-related workshops or presentations for community groups such as libraries, schools, and rotary clubs.
Presentation topics are designed to be timely, relevant, and highly informational for our audiences, and include such titles as include Start Early, Start Smart and How to Help your Teen Choose a Motivating College Major. We invite you to attend one of our presentations or inquire about how we might customize a presentation to fit your group's interests.
View our event calendar or contact us to learn more about hosting a presentation.