If you don't know where you're going, any road will take you there. 
–Lewis Carroll (Alice in Wonderland)
Make your College and Career Choice with Confidence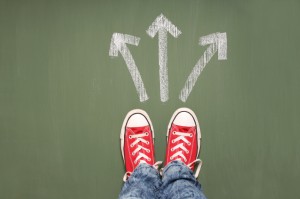 How many times has someone asked you, "What are you doing after high school?"
Often the response is, "I'm going to college". Lurking beneath that answer may be a worry that the courses I take won't support the career choices I may make down the road. That is not surprising. How much time and experience have you had learning about yourself and the world of work?
Wouldn't it be great if you could find a shortcut that would help you make a career choice with confidence? You're in luck. That's what our process provides. We help you pinpoint different talents such as creativity, reasoning and organizing styles, the ability to work in 3D, and more. This is done through aptitude tests that are described by our students as games, puzzles, or brainteasers.
Aptitude information is important in helping to identify the types of things you would enjoy doing on a job day-to-day. Even more, the types of things you would be good at. Combining this information with what we learn about your interests, we share specific career titles to support your career choice. In addition, we give you resources that provide information about the college majors, job availability, and what's needed to prepare to enter those careers.
You may have heard stories about graduates not finding work and carrying too much debt when they graduate. Having goals and making realistic career choices can make a big difference in pursuing your dreams. 
If you have asked yourself "What am I good at?", "What are my choices?", "What am I going to do when I grow up?", and are interested in learning more about our services, share this website with your parents. Our fun, upbeat assessment process is positive and very helpful in giving you and your family the confidence that you can make a good career choice.
Our Start Early, Start SMART Career Readiness Program is typically appropriate for students in high school and early college.